Wildlife officers have neutralized the bear but still do not know how it reached the south shore of the St. Lawrence River.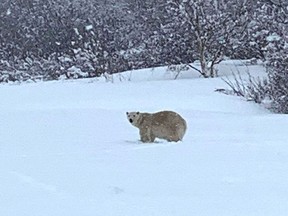 Content of the article
A polar bear that triggered a stay-at-home warning after being found in Madeleine-Centre, on Quebec's Gaspé Peninsula, was shot dead by wildlife officers, they confirmed on Sunday.
Content of the article
Around 9 a.m. Sunday, the Sûreté du Québec indicated that the bear had been neutralized by wildlife protection officers. Sylvain Marois, commander of the southeastern district of the wildlife protection agency, confirmed that the animal had been shot, saying it was for public safety reasons. Because the bear was not in its natural habitat, it could have become aggressive, Marois said.
On Saturday, the agency was unable to explain how a polar bear showed up on the peninsula, forcing residents to stay indoors.
Marois said the bear may have taken advantage of the pack ice to cross the St. Lawrence River. To Marois' knowledge, this was the first time wildlife officers had observed a polar bear on the south side of the river.
A polar bear was spotted in the Minganie Regional County Municipality earlier this month, more than 200 kilometers northeast of Madeleine-Centre, across the estuary.
Madeleine-Centre is located at the northern end of the Gaspé Peninsula, approximately 80 kilometers northwest of Gaspé.