"They have been deprived of the pleasure of traveling, and this year they are taking as many trips as possible."
Content of the article
Chuck Rage knew Quebecers would be back.
Content of the article
When the COVID-19 pandemic hit in 2020, Quebec guests canceled reservations en masse — but many told him to save deposits for future stays at his Hampton Beach, NH resort.
Now they are back. "They love our beaches, the boardwalk and the shopping – we don't have sales tax," said Rage, owner of Pelham Resort and a store that sells beach items and souvenirs.
Some local businesses rely on Quebecers for up to a quarter of their summer revenue.
Canadians are also returning to Maine, said Holly Roberts of the chamber of commerce that covers York Region, an area known for its beaches, lighthouses and scenic drives.
"Not as many as we had in the years before COVID, but it's very nice to finally see them back."
The end of most pandemic restrictions, including many cross-border travel rules, means Quebecers are packing their bags for more distant trips after two years close to home.
Content of the article
I Remember license plates are once again ubiquitous in Ontario and the Maritimes as well as traditional Quebecer beach destinations such as Old Orchard and Ogunquit in Maine, and Wildwood and other Jersey Shore towns. .
Vermont businesses are also reporting an increase in the number of visitors from Quebec.
Many Quebecers will be traveling over the next two weeks during the annual construction holiday, a time when about 25% of the province's population is on vacation.
Summer travel is almost back to pre-pandemic levels, according to a recent survey of 1,000 Quebecers sponsored by CAA-Quebec, a nonprofit that provides roadside assistance and operates a travel agency.
"They have been deprived of the pleasure of traveling and this year they are taking as many trips as possible," said CAA-Quebec spokesperson Nicolas Ryan.
Content of the article
"The biggest takeaway from this year's survey is that we were seeing numbers close to what we were seeing before the pandemic (in 2019), but we're not there yet."
This year:
10% of respondents plan to travel to the United States, compared to just 1% last year when severe border restrictions were in place.
11% expect to travel to other provinces, up from 7% last summer, when places like Prince Edward Island were checking proof of vaccinations and conducting COVID tests at the border.
15% of travelers plan to get to their destination by plane, compared to only 5% last year.
45% expect to travel within Quebec, down from 54% last year, when far fewer travel destinations were available.
Content of the article
Quebecers can expect longer waits at US border crossings this summer, but perhaps not as long as in 2019.
In June, 1.3 million Canadian residents returned from road trips to the United States, up from just 250,000 a year earlier, according to Statistics Canada. But it is still 43% less than the trips recorded in 2019.
Canadians traveling to other countries still face certain restrictions.
For example, all travellers, whether entering Canada by air, land, rail or sea, must use the ArriveCAN app to provide their travel and COVID information. (More information is available at voyage.gc.ca.) ​​Tourists are also advised to check the rules in destination countries.
Although far fewer public health measures are in place for travelers this year, there are other challenges.
Content of the article
The average gas price in Montreal was $2.17 per liter in June, compared to $1.29 in June 2019 before the pandemic — a jump of 68%, according to Statistics Canada data.
The cost of just about everything else is also rising, with the federal agency this week saying the annual inflation rate for June was 8.1%, the biggest increase in nearly 40 years.
The Canadian dollar has been weak lately, worth around 78 cents in the United States, compared to just over 80 cents last year.
Higher prices are expected to impact tourism, said Steve Lyons, director of the Maine tourism board.
"I think people want to travel, but they won't travel as often and they won't spend as much on some of these extra things, like going out for a very expensive dinner or buying souvenirs or extra clothes or whatever. "
Content of the article
Normally, 2.3 million Canadians visit Maine each year, spending about US$1.3 billion. These numbers decreased in 2020 and 2021 due to lockdowns and border closures.
In the first half of 2022, the Maine trip-planning site has seen renewed interest among Quebecers, Lyons said, adding that local tourism and camping associations have reported an increase in calls from Province.
This year, the construction holiday runs from July 24 to August 6. It is estimated that 80% of Quebec's 190,000 construction workers hang up their helmets during construction holidays. Many other Quebecers choose to take their vacations at the same time.
The other 20 percent of construction workers are involved in maintenance, renovations, emergency works, civil engineering and road works. This means drivers don't take vacations because of detours.
Content of the article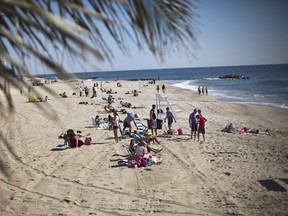 Where are Quebecers going on vacation this summer?
Other region of Quebec: 45%. Main Quebec destinations: Gaspésie (21%), Charlevoix (17%), Quebec (14%), Laurentians (14%), Bas-Saint-Laurent (14%).
Other province: 11%. Main provincial destinations: Ontario (55%), New Brunswick (21%), Nova Scotia (15%).
United States: 10%. Top state destinations: Florida (22%), New York (21%), Maine (20%), Massachusetts (14%), California (13%).
Europe: 5%. Main destinations: France (41%), Italy (24%), Spain (15%).
Caribbean: 2%
Source: CAA-Quebec
Mid-season, Montreal tourist numbers exceed expectations

Delays and cancellations ease at Trudeau Airport, but turbulence remains